The TinyHawk S can be seen as a the upgrade of the normal Tinyhawk,it is stronger which means it is more resistant to crashing and faster due to 2s compatible.
Tinyhawk S features compared to the Tinyhawk
Newly engineered brushless motor that is smaller in scale in order to reduce weight, but also be able to spin at higher RPMs, increasing the power output of the entire aircraft.
Utilizing this new power system, up to 20% more flight time as well as the ability to accept a higher voltage.
Tinyhawk S featuring a dual slot mount for the battery and you can also tilt the camera to your preference.

With newly reinforced struts.
Frame Properties:
Size: 75mm motor to motor L 110mm x W 95mm x H 39mm
Dry Weight: 30g
Frame Material: Polypropylene
Propeller Properties:
Avan TH turtlemode propeller
Diameter: 40mm
Blades: 4
Pitch: 31mm
Weight: 0.63 g
Motor Properties;
Stator: 8mm x 2.5mm (0802)
Kv: 15500kv
Weight: 2.5g
Bearing Size: Φ1.5*Φ4*2mm
Shaft Diameter: Φ1.5mm
Propeller Mount: Press Fit Over Bell
Main PCB:
Flight Controller: F4(MATEKF411 firmware)
ESCs: 4in1 5A
Receiver: EMAX Tiny receiver (Compatible with Frsky D8 mode)
Battery Connector: JST-PH2
Camera and VTX:
VTX Power: 25mw
Channels: 37CH
Camera Properties: 600TVL CMOS
Smart Audio
1S Battery:
Voltage: 1s 4.35v HV
Capacity: 450 mAh
Discharge rating: 80c/160c
2S Battery:
Voltage: 2s 8,7v HV
Capacity: 300 mAh
Discharge rating: 35c

Tiny Hawk S

Instruction manual

Charger

Extra propeller set (2x CW, 2x CCW)

1s High Voltage (HV) 450mAh lipo battery.

2s High Voltage (HV) 300mAh lipo battery.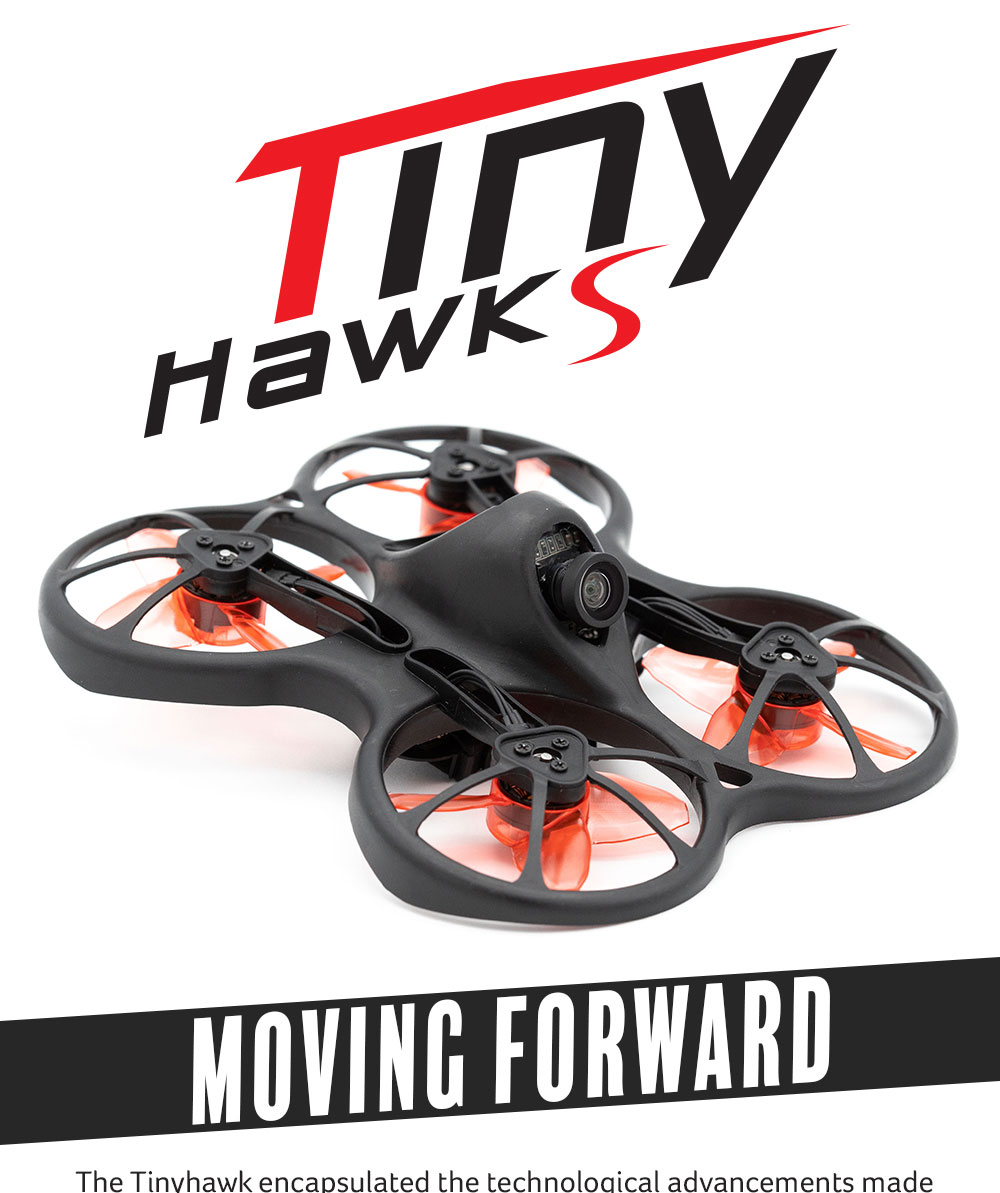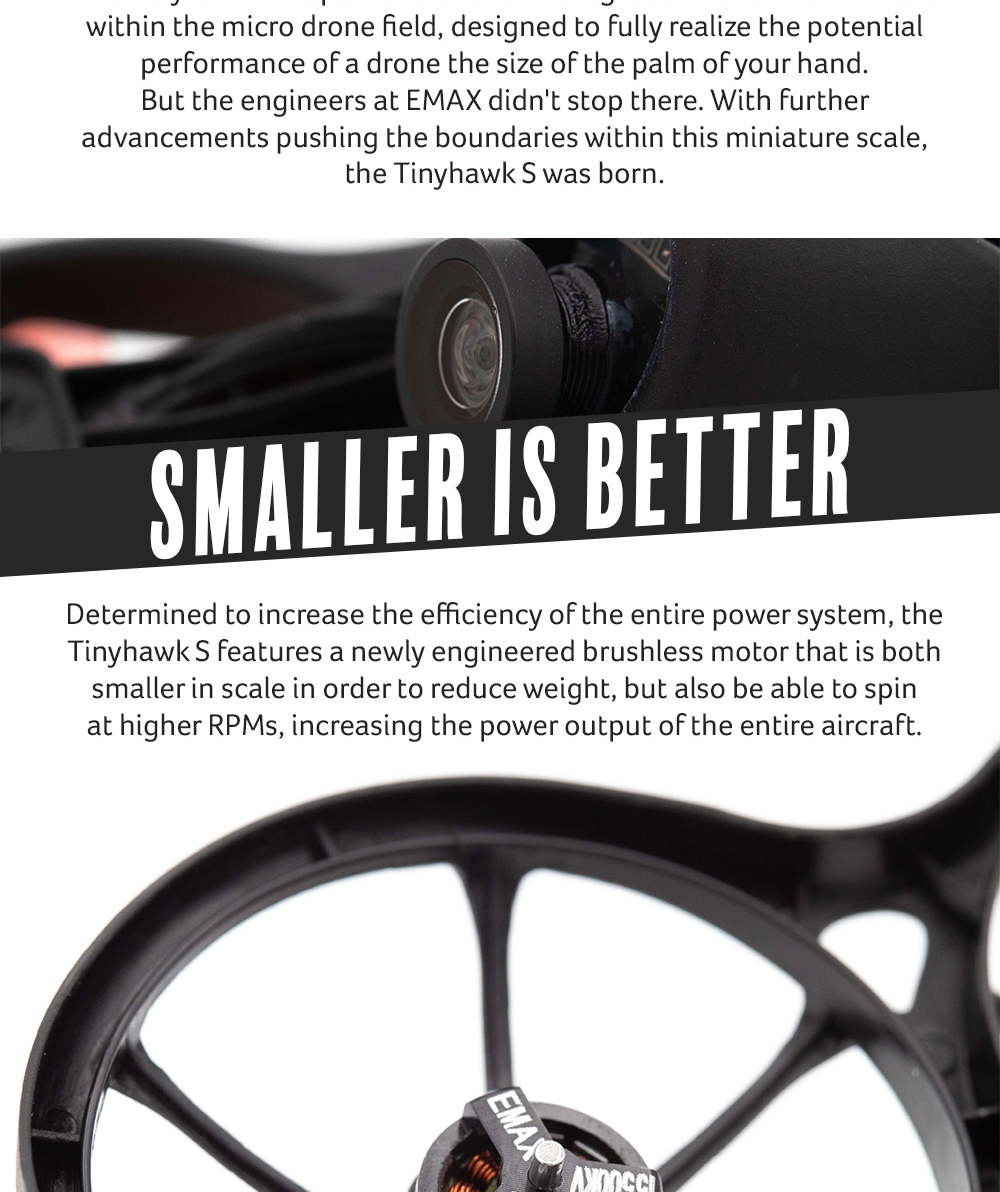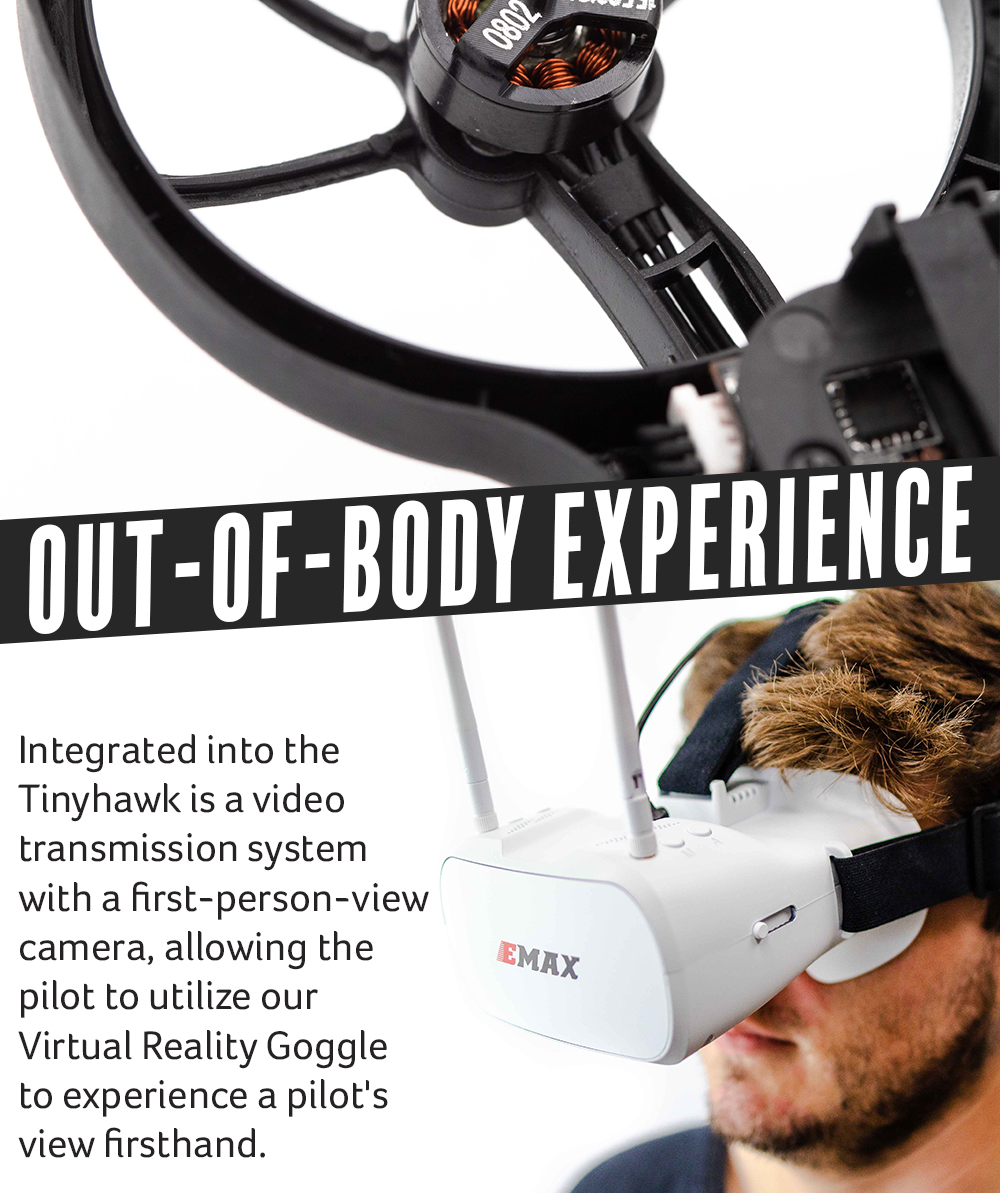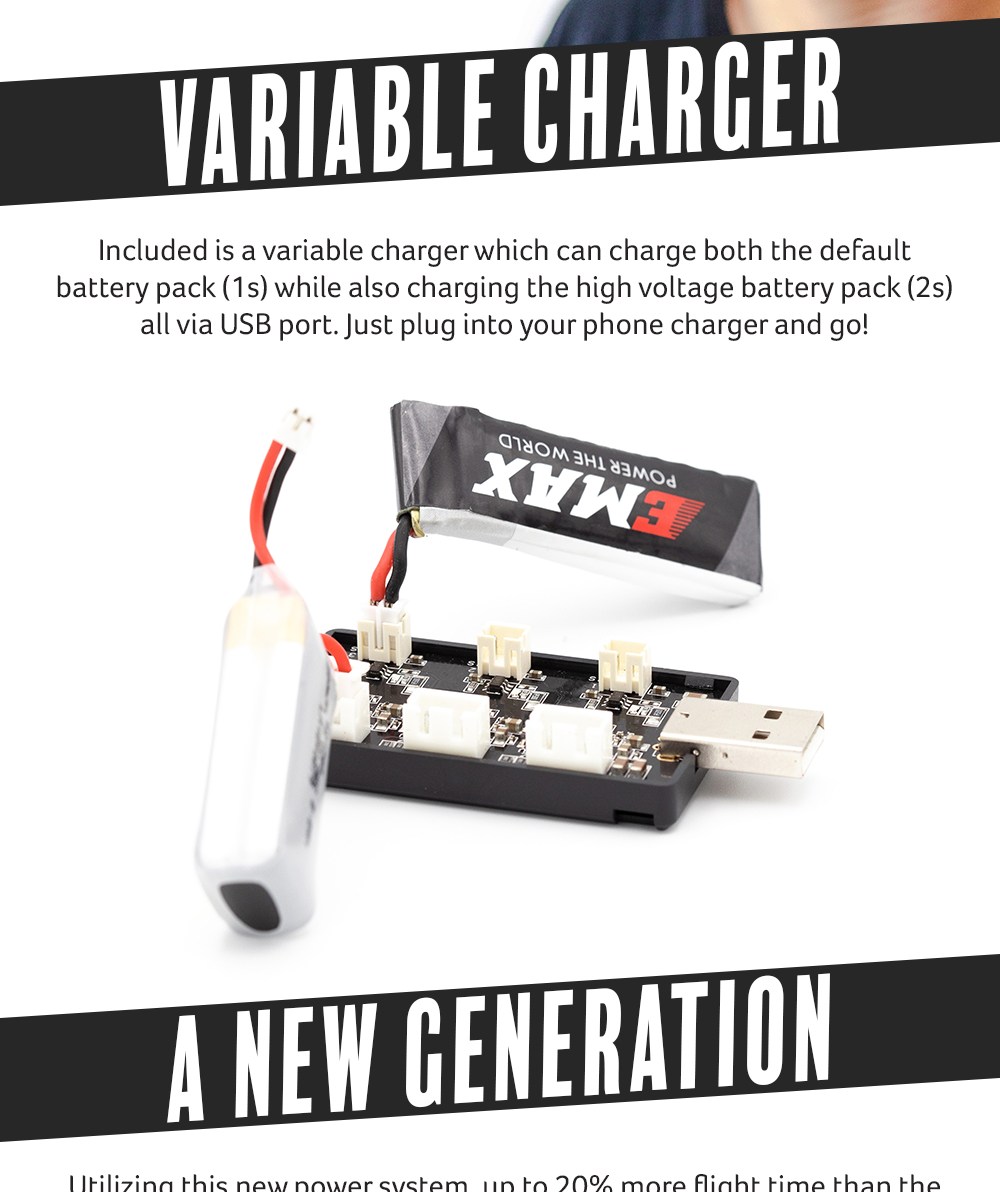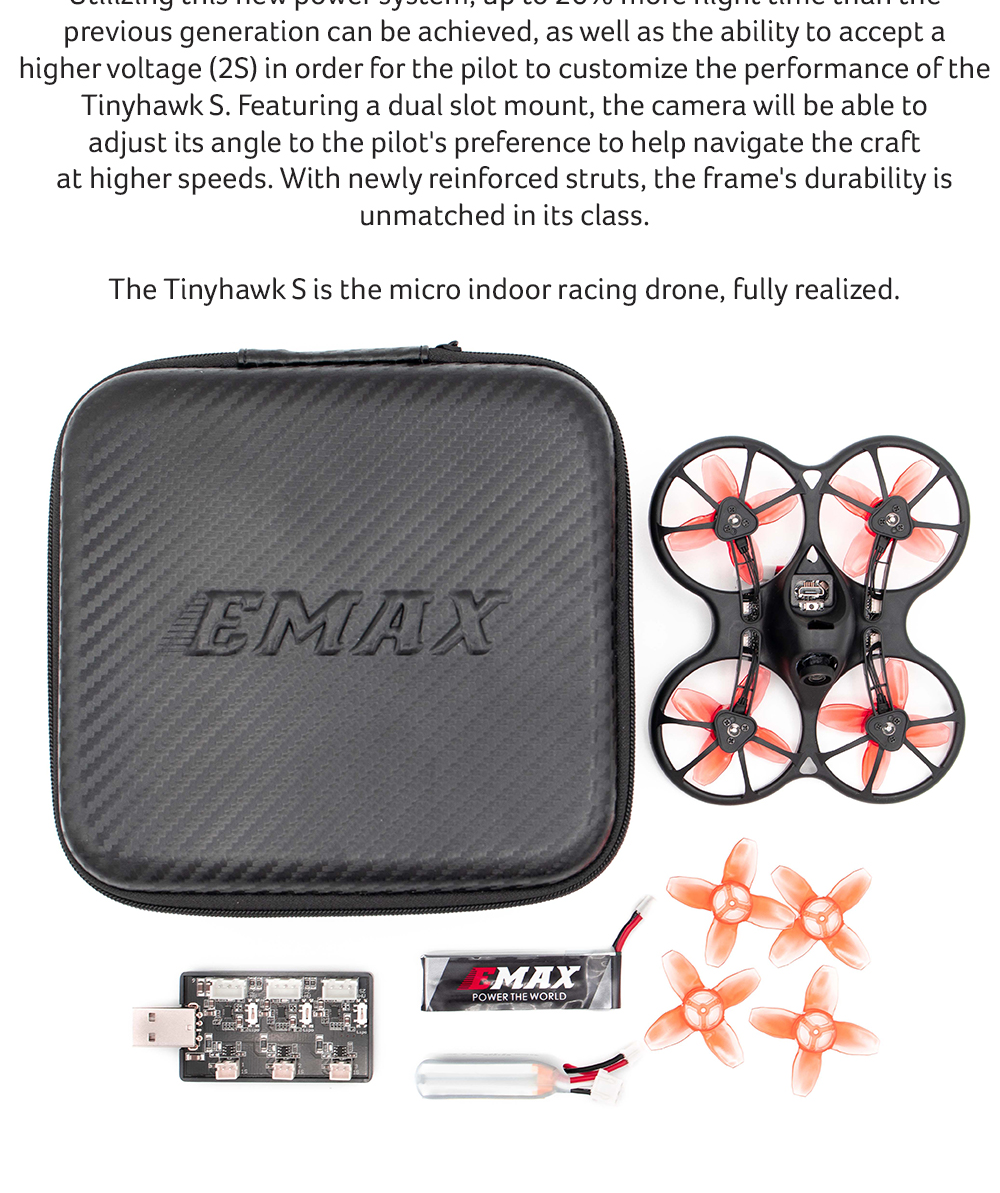 Emax TinyHawk S 75mm BNF FrSky